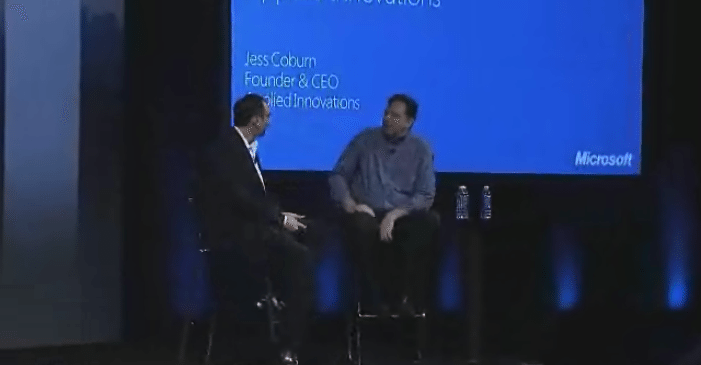 Windows Server 2012 and Partnering with Microsoft!
Today at Applied Innovations, we announced that we have officially launched Windows Server 2012 Beta cloud servers on top of a  Windows Server 2012 Hyper-V Cluster!  This is all really cool because it's the first time we've been able to publicly discuss the amount of time we've been working with Microsoft around Windows Server 2012 Beta.  In fact, it's been painful not being able to blog about all of the exciting new features that have gone into the new operating system that I believe will ultimately make Windows Server 2012 the definitive operating system for the cloud.  I also believe we'll look back and see Windows Server 2012 and Windows "8" mark the inflection point where on-premise deployments gave way to cloud deployments. (Yes, that's tough talk!)
We've been delivering web workloads on top of the Microsoft Windows Server family of products since 1999 when I first set out to start Applied Innovations.
Back in 1998 when I was planning to start my company I had a choice, go with Linux, which at the time was the superior web server, or take a bet on Microsoft and go with Windows. I opted to go "All In" with Windows and I believe it was the right bet and ultimately has proven to be a winning bet.
Since that time we've seen a lot of changes happen with Microsoft and Windows, some of my personal favorites:
Microsoft adopting PHP and providing full support for PHP in Windows
IIS6 and application pools
IIS7 and it's departure from being tied to the OS release cycle and becoming more module
Hyper-V and all things Hyper-V
and of course all the goodness that comes with Windows Server 2012.
Windows Server 2012 is like Microsoft set out to identify all of their weaknesses with the server operating system, with the web server and with their virtualization stack and then fixed it!
I believe much of this comes as a result of the conversations we (as well as the other service provider partners) have had with Microsoft.  Personally, I've attended dozens of meetings, conference calls or webinars.  I've sat in on the Windows Server Futures Council and on the Service Providers Partner Advisory Committee.  I've travelled to Redmond to meet with the product groups and they've traveled to Boca Raton to meet with us.  During all of these meetings we've had those difficult conversations with Microsoft where we tell them what needs to be changed and then watched as they've not only listened to that feedback but heard that feedback and then taken that feedback back to the product groups and implemented the feedback.  I'm happy to say I believe Windows Server 2012 is the result!
Partnering With Microsoft
Recently I attended the Microsoft Hosting Summit in Seattle (in fact, this was my fourth or fifth time attending the event and my company has been mentioned in a keynote in every Hosting Summit since 2007). This year I was invited to share our story around partnering with Microsoft with Mike Shutz, General Manager of Windows Servers & Management Products Marketing and the other attendees that represent Microsoft's top 400 or so Telecom and Hosting partners from around the globe.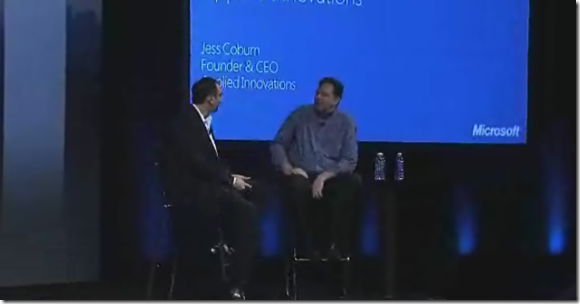 Our conversation was around much of the feedback we provided Microsoft. You see, I believe any partner should work to understand their customer, their customer's business, the pains of their customer and what the customer requires to succeed. Then it's up to the partner to deliver a solution that ultimately helps the customer become more successful online.  It's one of the core principles I founded my company on and our company is passionate about "Making online business success easy!".  I believe Microsoft today shares much of that same principle and this is shown in with Windows Server 2012.
What's some of the feedback Applied Innovations offered Microsoft Around Windows Server 2012?
During our conversation Mike asked me what were some of the areas of improvement in Windows Server 2012 that we believe are the direct result of our feedback.  I believe we helped in the following ways:
Changes We Helped Drive Within Hyper-V
Within Hyper-V there's clearly the increased scalability with support for up to 32 cores in a virtual machine but something I think is really going to help is the extensible virtual switch.  In Hyper-V in Windows Server 2008 R2, it's a magic black box, bits in, bits out and what happens in the middle is 'magic'.  In Windows Server 2012, this changes and the switch is extensible. This is going to open it up to allow companies to deliver virtual routers, virtual firewalls, security appliances, load balancers and you name it. Best of all this will be delivered by the same companies that make physical switches and it will be to the same standards.
Another favorite of mine is vReplica.  Within Hyper-V today you can offer Disaster Recovery between locations but it relies on 3rd party storage appliances and the stars have to be aligned just right for this to all work correctly. With Windows Server 2012, this is extremely simplified and will open a whole new product offering for us around Disaster Recovery and high availabilities. Best of all the transition from on-premise to cloud will be much easier and then if the customer wants to go back to on-premise it will be just as easy!
Changes We Helped Drive Within IIS 8
For us, a nagging problem for years has been within the IIS FTP Service. There's no protection against Bruteforce password attacks and no way to really block that, this has been resolved in IIS8.  Then there's CPU throttling. In the past there was no real way to throttle a customer automatically from impacting the other customers on the server. In IIS 8 this is resolved
Then there's the Elastic Shared Cloud Hosting Model
Late last year we launched our Awesome.net platform and delivered an elastic shared cloud hosting solution specifically for DotNetNuke using IIS 7. Improvements to IIS 8 will help us to really extend that offering and deliver an even more robust solution!
So that's just a sampling of the feedback we've delivered.
What Does This Mean For the Cloud and What's Next?
The cloud is all about deploy what I need, when I need it and only paying for what I use when I use it.  But what is often forgotten is that in order to be successful this needs to be easy to deploy and implement.  I believe Windows Server 2012 is going to bring that simplicity to cloud deployments. But don't just take my word for it! Today we're offering Windows Server 2012 Beta cloud servers and I'd encourage you to sign up for one and try it out yourself: Cloud Servers running Windows Server 2012