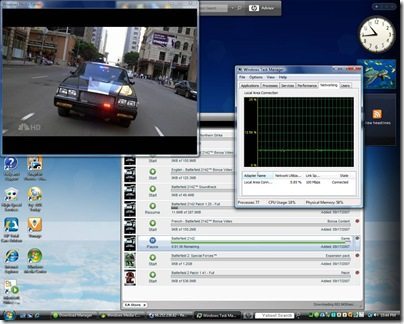 My New SuperRig (AKA the gaming/media beast)
At home I've had a homebuilt P4 3.2GHz desktop for a while now, it's done me well but new video cards, faster multi-core processors and ofcourse Vista…  it was time to build a new box.
Recently Scott Hanselman posted about his new Ultimate Gaming Machine he had built up and I was inspired to build my own super quiet super-rig but couldn't bring myself to drop the $2500 it was going to cost to build a box just for fun…  So what does a cheapskate do?
So enters SlickDeals.net.
One of my favorite websites on the Internet is slickdeals.net, here you can find all the best 'slick deals' everything from super cheap promotions to amazing coupons and rebates.  Everyone that knows me teases me because I check this site 3-4 times a day for that slick deal.
Last week, the need for a new machine hit me again and slickdeals delivered this little morsel:
HP Home has a new $400 off $1000+ coupon DT4115 valid customized HP Pavillion Desktops. Thanks Selma

A well-equipped HP Pavillion m8100y Media Center/PVR desktop PC for a base price of $899

Click "Customize"
Select the following options (or choose any other upgrades for $100 or more):

Intel Core 2 Quad processor Q6600 (2.4GHz) [add $150]
FREE UPGRADE! 2GB DDR2-667MHz dual channel SDRAM [add $0]
FREE UPGRADE! From Xtreme Audio to Sound Blaster X-Fi XtremeGamer or FREE UPGRADE! From integrated to Sound Blaster X-Fi Xtreme Audio [add $0]

Checkout, apply $400 off $1000 coupon DT4115
Your total will be $650 + applicable taxes with free shipping

Specs:

Genuine Windows Vista Home Premium (32-bit)
Intel Core 2 Quad processor Q6600 (2.4GHz)
2GB DDR2-667MHz dual channel SDRAM (2×1024)
64MB NVIDIA GeForce 7500LE, DVI-I, TV-out, VGA adapter
250GB 7200 rpm SATA 3Gb/s hard drive
LightScribe 16X DVD+/-R/RW SuperMulti drive
15-in-1 memory card reader, 2 USB, 1394, video
ATSC-NTSC TV tuner with PVR, FM tuner, remote
Sound Blaster X-Fi XtremeGamer or Sound Blaster X-Fi Xtreme Audio
Norton Internet Security 2007 – 15 Months
HP keyboard and HP scroller mouse
No Monitor (unless additionally selected)

Alternative upgrade options (choose one)

Intel(R) Core(TM) 2 Duo processor E6850 (3.0GHz) [$50 less, $600 total]
Now how anyone object to: A Quad Core CPU, 2GB memory, a 250GB SATA drive, a sound blaster sound card and a TV tuner with PVR, FM and remote control and to top it off Windows Vista Home Premium (which includes Windows Media Center) for $650!!.  It was simply a score, So I went for it.
Unfortunately it did have a couple shortcomings that kept it from being a super-rig:
Only 1 SATA drive (and only 7200RPM), ideally RAID 0 or RAID 10 – fortunately the motherboard supports this.

The video card options were weak.
The 350W power supply was no doubt going to have to be replaced with something else.

Certainly not showstoppers and nothing that couldn't be resolved.

Bring Forth the Video & Power

The box arrived yesterday and upon looking in it, it was questionable if a large video card would fit in there.  A quick trip to the local CompUSA and $450 later we have a 8800GTS Video card and a 600W PCI-E ready powersupply. Those others wondering if the 8800GTS series video card will fit in a HP m8100y can be happy to know it'll fit, you may never be able to get it out, but it will fit!

Here's The Numbers…

Before the video card and power supply swap we had this:

After the video card swap out:

We went to 5.9 across all the video scores with only RAM & Disk I/O keeping us from a perfect 5.9.
What's next?
Getting 5.9's across the board ofcourse!
The RAM and Drive upgrades will come in a couple weeks as I'm also still debating if I should make the jump to Vista 64bit or stick it out with 32bit and will have to decide that first.  Ofcourse, many wll argue it's not a super-rig  until it's the ideal super-rig (Like Scott's) with two video cards with SLI for video and dual monitors but I don't have space in the new box for a second video card and the current card can support 2 DVI monitors as well as HD output.
My super-rig will be used as a media pc / gaming pc more than anything else so giving up the second video card for a TV-tuner/PVR card is acceptable.
But thanks to slickdeals.net I managed to build an almost-complete super-rig for about half of what I would have spent building the entire machine myself and probably 1/3rd what I would have spent if I spec'd out a similar machine through Dell, etc.
Now I just need to find a slickdeal on a 30" LCD monitor!
The final outcome
And here's a little screen shot of what was going on last night: