Easy Panoramic Pictures with Panavue
One of the greatest things and worst things I ever did was purchase a digital camera. In the past 4 years, I've built an online photo gallery of over 4GB and close to 8000 images. I'm certainly no expert at digital photography and don't really have the patience to become one, but I love "the cool stuff" and this blog post is about The Cool Stuff.
Like everyone else with a digital camera I love to stand in a spot and take a series of pictures in hopes of firing up Photoshop and stitching them together. Then when I get back home to the computer and decide to fire up photoshop, the reality that I know absolutely nothing about Photoshop or how to stitch a series of pictures together cleanly enough that they don't look like a bunch of pictures just glued together hits home and I soon realized no only did I look like a dork spinning around trying to get a series of pictures but now I'm dork with a bunch of pictures from standing there spinning around!
I asked a friend of mine (who is a digital camera and photoshop guru) what's a great, easy to use (and ideally cheap) application for creating panoramic photos from a series of separate shots. The application he recommended as easy to use (and affordable) was Panavue image assembler from panavue.com (at $64 it's moderately affordable).
So as they say, a picture's worth a thousand words and here's a few of the pictures created with Panavue using default setting and pretty much just clicking "NEXT, NEXT, NEXT, FINISH". I'm sure as I spend more time creating more panoramic shots I'll learn how to use it and how to create better pictures.
Chicago February 05
This picture was created from two different shots pasted together. I found creating shots from 2 pictures really gave the best results.
The above picture was created from these two pictures: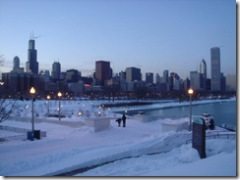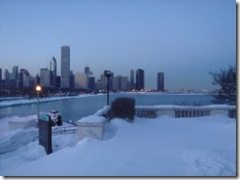 Greece 2006

Which started out as these two pictures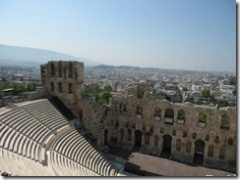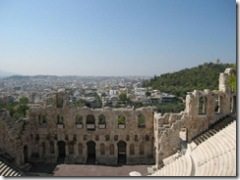 Buckingham Palace 2006
This is actually pretty interesting. Look at the lady with the white blouse and gray hair walking towards me and then at the lady smoking to the right of me. It's the same person!
These are the pictures that created this great view: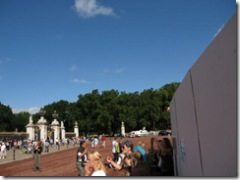 Washington DC Spring 2007
This was taken from our hotel at the Mandarin Oriental in DC. It's overlooking the Treasury (that's the money factory on the left) and was composed from two separate photos.
At the base of the Washington Monument.
In the Mall by the Smithsonian.
Key West Summer 2007
I know with a little effort and tweaking the settings of the application these images could come out even better. Now in a couple of them you can see where the images blend together (especially in Buckingham Palace and the Key West daytime picture above. However, I think the pictures really show just how powerful this type of application can be and just what kind of great pictures even an amateur like myself can take with a digital camera and a little digital photo cleanup.