Free Windows Desktop PDF Generation Tool.
PrimoPDF, a free windows based application for printing any document to PDF files was create by activePDF. PrimoPDF is based off of the AFPL Ghostscript and Redmon opensource applications and is licensed under the Aladdin Free Public License (AFPL). You may be wondering, if it's using opensource tools why don't I go and just download and install those instead. Well, if you've ever attempted to install and configure Ghostscript on your local PC then you can truly appreciate an application like PrimoPDF and the time savings it affords us. PrimoPDF is available from www.primopdf.com in both 32 bit and 64 bit editions!
I realize my blog is about windows webhosting and web technologies and although this does not directly relate to windows web hosting, almost every site owner or developer needs to create a PDF at some point and good, affordable, easy to use tools are hard to find.
I installed PrimoPDF this morning because we commonly email documents in PDF format and my normal application was acting up (again!). The application I normally used was somewhat buggy, expensive and generated extremely large PDFs. I could ofcourse just purchase Adobe and be done with it, but then that's expensive and overkill for my needs.
Instead of just saying 'this is a cool application, go get it', I wanted to provide a simple overview of the app so you can get a feel for just how great it is. I hope you find this useful.
Installation Process
PrimoPDF installed through a standard InstallShield installer and creates a Printer in your Printers and Faxes container called PrimoPDF: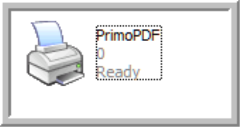 Usage
Once installed to use PrimoPDF you simply select print document as you would normally do and select the PrimoPDF printer as the printer to print to.
The document will spool and within a few minutes you'll have the PrimoPDF print screen displayed: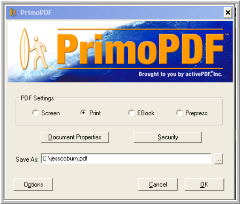 You can then select custom settings for the type of PDF you wish to print. In addition you can also set document settings such as the title, author, subject, keywords, etc: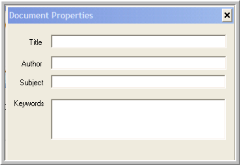 You can also set security settings such as password protection, encryption, if you want to allow users to be able to print your PDF, copy text or images, etc: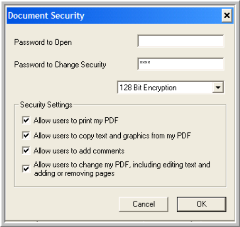 Conclusion
PrimoPDF is an outstanding PDF creation tool for your desktop that any windows user will find both easy to use and powerful. PDF has quickly established itself as the document format for the Internet and tools like PrimoPDF are making it easy for even the most novice user to create attractive PDF documents.
I found PrimoPDF easy to use, lightweight on system resources and the PDF's it generated acceptable in size and pleasing to the eye. I also find it wonderful that a company such as activePDF (who makes outstanding PDF tools for developers and programmers) provides such an outstanding free tool back to the community, Kudos to activePDF (www.activepdf.com).