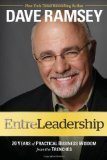 Book Review of EntreLeadership: 20 Years of Practical Business Wisdom from the Trenches
It's been a while since I've blogged and things have just been insanely busy at Applied Innovations, but I wanted to send out a compliments to Dave Ramsey for his book: EntreLeadership: 20 Years of Practical Business Wisdom from the Trenches
For anyone that's in a management position, running your own business and struggling to figure out 'why don't they get it?' I'd encourage you to read this book. It's a fantastic read.  Throughout the book, Dave shares his own experiences in business and his ups and downs.  He shares with you the wisdom he's gleaned over the years from his own business and from learning from others and presents it in an easy to read, enjoyable fashion.
One of the things I enjoyed the most about the book is a lot of Dave's value and his company's values are very similar to our own values.
I encourage you to purchase this book today and would love to hear about your favorite chapter. Oh and just for the record, those links are Amazon affiliate links.