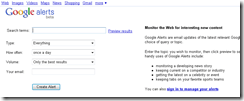 6 FREE (or cheap) Great Tools for Monitoring your Social Networking Marketing
I've been evaluating various tools to monitor our social network marketing and came across a nice set of tools I thought I'd share.  If you have tools you use on a regular basis that you'd recommend please feel free to leave a comment here.
#1 HootSuite: Monitoring multiple Twitter accounts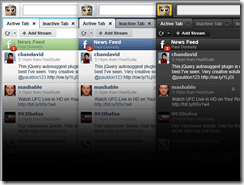 Hootsuite (www.hootsuite.com) is a tool I use on a daily basis to monitor multiple twitter accounts. Some of the ways I tend to use it are:
Monitoring multiple twitter accounts
Monitoring specific keywords – I'm able to track mentions of specific keywords for each profile.
Create scheduled tweets – No one can tweet 24×7 but each day you can spend an hour or two and schedule your main tweets and retweets for that day easily using hootsuite.
Monitor link clicks – Hootsuite allows you create tiny urls and then monitor their activity for clicks and such.
Those are just a few of the ways you can use hootsuite.
#2 SproutSocial: Monitor all of your social networks in one place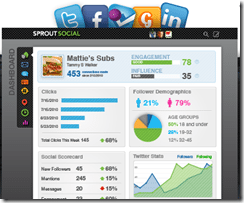 SproutSocial (www.sproutsocial.com) is a great tool for monitoring all of your social networks. I use it for Facebook, Twitter, LinkedIn, FourSquare, Search/Blog mentions, etc. But it's more than just that. Here's a few ways I use SproutSocial:
Each morning I spend an hour reviewing our social networking status. Replying to tweets (using hootsuite to schedule tweets) and getting a feel for what's going on.
It also provides some demographics on my followers such as Age, Sex, etc.
It allows me to track my followers and how many I'm gaining, etc.
It gives an overview of mentions, messages, allows for scheduled tweets, etc. You could probably use this for much of the same functionality of HootSuite and at some point I may but I like them both.
It provides a great set of discovery tools that allow you to monitor mentions in blog posts or search engines
Finally, it even recommends tweeple (twitter people) you should follow based on specific keywords. The importance of this? Find influencers and engage them!
This is a paid service but it's pretty cheap and they provide a 30 day free trial so you can see if it works for you or not.
#3 Flowtown: All your social networks are belong to us!

Flowtown is definitely cool.  You enter in a list of email addresses for your contacts and it pulls in all their social networking accounts: twitter, Facebook, MySpace, LinkedIn, flickr, etc. It then provides you details on these individuals, which ones have the highest 'Klout' (are most influential) and has an integrated email system so you can engage them via email and track those engagements. All of this from just entering in their email address!
Here's a few examples on how you can use it:
Identify demographics on your contacts/customers:  Where are they located, what's their name, what's their age and what's all of their social networking details (which systems they have accounts on and what those accounts are so you can engage them there!)
How Influential they are.  Let's face it you want to target your marketing efforts on people who are going to give you the best return on your investment. This will help identify them.
What social networks are your contacts most engaged on. If you're going to buy advertising, buy it where they'll see it. If you're wondering why would I buy banner ads on the networks that my customers are on, it's easy:  you're buying banner ads on places that people that buy your services visit and thus you'll have a higher likelihood of success.
Who are your top influencers .. Again, who gets special treatment?
Interact where they're comfortable.  Since you have their details for their social networks, now you can friend them, follow them, invite them, etc.
Integrate with your other systems: Email campaign apps (like icontact.com), survey tools and even CRMs (like who isn't integrated with Salesforce already).
(this is really cool) Automatically follow all of the tweeple it finds!! (and hope they'll follow you back).
Flowtown provides you the ability to integrate 50 accounts for free but then after that you have to purchase a subscription and pay per email address.  It's only a couple cents per contact and well worth it in my opinion.
#4 PostRank Analytics: Measure social engagement from over 20 top social networks.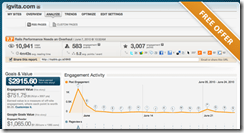 PostRank Analytics (www.postrank.com) is something I just started using but I can tell it's going to quickly become one of my favorite tools.  PostRank allows you to enter an RSS feed for your blog and then monitor the social networking activity around it. But it's more than just that! It also integrates with your Google analytics account and provides a mashup of information.
See what kind of activity your blog posts are getting (who's tweeting them, posting on Facebook, digg, etc)
Track your competitors, see how they're doing with their own social networking activities!
Engage! Have you noticed it's all about engagements? Well it is. All these tools are meant to help you engage better with your customer base and build relationships in the places they're most comfortable.
PostRank Analytics, is available for free and for paid. It's very affordable and well worth it.
#5 MailChimp: Great Email Marketing that's FREE!
Mailchimp (www.mailchimp.com) is a great Freemium (means they have a free and a premium/paid version) mail tool.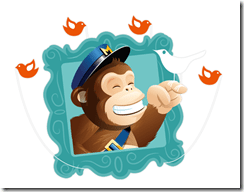 First, we use/recommend icontact for all of our newsletters and highly recommend them. However, I'm a firm believer that you need to have a toolbox full of tools so you can use the best tool for the job.  Plus Mailchimp is free for 1000 subscribers and 5000 messages a month and it's social network aware!!  Here's a few ways you can use mailchimp:
You have a small mailing list of people and don't really have the need to send more than 5000 messages a month.
You can use their RSS to email feature to create a mailing list on your blog and invite people to subscribe. Then when you create a new post on your blog your subscribers automatically get an email.
If you use WordPress you can use their plugin to automate subscriptions and double opt-ins.
With their new SocialPro feature they're providing a lot of the same integration that tools like Flowtown and the others here are providing. This all results in integrated campaigns and hopefully better … yes you guessed it .. engagements!
I personally think the folks at MailChimp, Get it! So go .. Get it!
#6 Google Alerts: Because Google knows EVERYTHING ABOUT YOU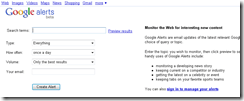 You can set up a Google alert by going to www.google.com/alerts and entering in keywords. Then when Google finds these keywords on the Internet they'll email you a report of them.  This is great for brand monitoring.
I'm not as much of a fan of Google Alerts as I used to be because I'm finding such a large number of blogs duplicating our press releases and blog posts in hopes of making ad revenue off their sites.. If you do that.. Blah! to you!
What do you use?
Okay, so those are my 6 "check 'em everyday" tools.  If you have another tool you love to use, please leave a comment mentioning it. If you like this blog post, please remember to retweet it (great little twitter retweet button on the top left to make it easy for you) and by all means, if you're looking for web hosting for your website that runs a web application like: WordPress, DotNetNuke, Drupal, Joomla, E=Commerce StoreFront, BVCommerce, Umbraco, Kentico, Sitefinity and such please visit www.appliedi.net and if you sign up you can use coupon code: cangoods to get 15% off AND we'll also donate 10% of all new sales this month to support Food for Families (it's a win-win for everyone).
Hope you enjoyed the article and hope you comment, tweet and recommend this article!