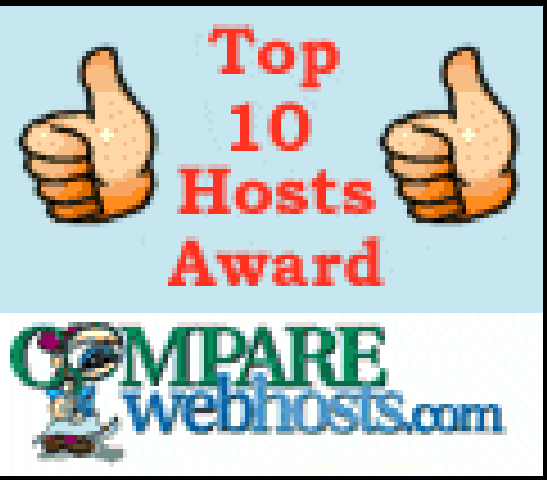 AppliedI.net awarded top 10 hosting recognition from comparewebhosts.com

I got an email today to let me know that Applied Innovations was selected as a top 10 host by comparewebhosts.com. Comparewebhosts.com is a hosting directory that allows you to enter different features and options you want from your webhosting account and then compares webhosts to see which is the best fit for you.
Applied Innovations was founded 1999 and as companies mature they evolve and we're no exception. We spent all of 2005 and the better half of 2006 re-evaluating our hosting products, procedures and overall operations looking for any places we could use improvement and addressing them. In the 3rd quarter of 2006 we began what we call: AppliedI 2.0. Recently we began migrating our servers and equipment to the Nap of the Americas (http://www.appliedi.net/network) which is the fifth largest data center in the world and home to every major Internet and telecom company in the world. The Nap provides complete 2N+1 redundancy and was custom built from the ground up in 2001 to withstand even a direct category 5 hurricane allowing us maximum uptime without worrying about generators, HVAC, etc.
We brought online new gigabit redundant routers, firewalls and intrusion protection servers to secure our network and provide improved uptime guarantees and even faster network response.
We deployed a new distributed shared hosting architecture built around a customized and extended version of Helm from webhostautomation. Our new hosting infrastructure provides increased reliability and performance. With a distributed architecture you'll gain the speed of purpose built servers and rest knowing that if for some reason your web server needs to be worked on, your email will continue to be accessible and vice-versa. The new system also brought in a single point of management for all of your websites and billing needs.
We recently improved our support system allowing for an integrated system that includes an improved knowledgebase and livechat system and also includes a new predictive support article recommendation system. As you enter your support request in the system it will read your message and suggest multiple support issues related to your support message! (AJAX baby)
The list can go on and on. I saw we began and not launched AppliedI 2.0 because like the web, we're continually improving. Most recently we launched Windows VPS hosting on Virtuozzo by SWsoft and many know I'm a big advocate of Virtuozzo and believe SWsoft has a keen eye on the hosting industry and truly is a company that caters to webhosters. Our Virtuozzo based Windows VPS hosting offers so many advantages that I think it would be foolish not to deploy virtuozzo as a windows vps hosting provider.
We're at #9 right now on comparewebhosts.com's list but I believe over time as AppliedI 2.0 continues to grow you'll see us climb up the ladder even. We're pleased to be recognized for doing what we do and look forward to receiving more awards from similar sites in the near future.