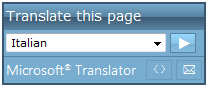 I speak your language thanks to the Microsoft Translator Widget
While at MIX, I learned about the Microsoft Translator. It's a website widget you add on your site and allows your visitors to select their preferred language and then translates the page into that language. I had a wordpress plugin at one time that did this but quit using it (I don't recall why, I think it was because I had to manually add it each time I changed the theme).
Anyway, you can learn try the translator on my site by visiting the little box on the right side that looks like this: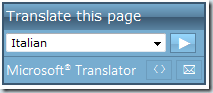 And selecting your language and pressing the little play button.  Then without leaving the site it starts to translate the page, IN PAGE.  Very cool, gotta love that AJAX/Javascript goodness.
How do I get one too?
Want to get it? Here's a little known secret. All Microsoft's beta stuff is available on http://connect.microsoft.com signup for it there and you'll receive a beta code as soon as it's available. Some betas are open immediately and some take a few days. It took about a month for me to get this one.