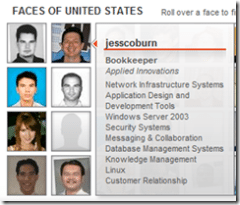 I'm the face of Windows Server 2008 (and you can be too!)
At the Microsoft World Wide Partner Conference earlier this month in Denver, I saw a bus driving around with "The Face of Windows Server" on it and it mentioned how you could be the face of Windows Server. I thought at first that was one odd looking fella: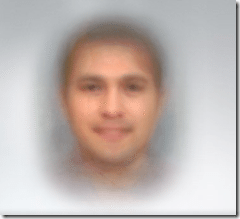 I figured he was either an alien from outer space or an odd morph. Turns out it was in fact a morph (so the Aliens haven't exposed themselves just yet, sorry.).
If you visit: http://www.microsoft.com/servers/faces/default.aspx you can see the current face of Windows Server and become part of the face yourself.
Stats on the Face of Windows Server 2008
At the time I uploaded my face there were:
333 faces from the United States
18 faces uploaded in the last 24 hours
27.9% are Systems Engineers
9.6% are Analyst
A quick look at my 'Face Profile'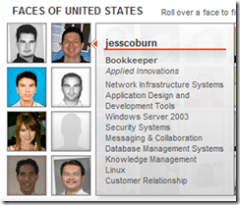 Apparently, I'm now a bookkeeper for Applied Innovations, I must have missed that memo. Ofcourse this also looks like a collage of the FBI's most wanted so that's probably related to my new job role change.
Me Morphing into 'The Face'

Video: The Face of Wndows Server 2008
The red dots on the video are not left over chicken pox, bad acne or the result of my wife planning a clever game of connect the dots with a Sharpie, they're actually the points selected by the application as it morphs your face into 'the face'. The video is me morphing.
The face is constantly changing and the above video is me morphing into the current face as of (7/27/07). I think the overall impact of my face is minimal when you consider the total number of faces involved (333 from the US at the moment). It would be extremely interesting to see a timeline of 'the face' captured each month and I'll see what I can do. In the meantime definitely join the face as it's a pretty cool social networking / web 2.0 experiment.