The evolution of AppliedI.net
I was using the wayback machine at archive.org to review some of the old versions of the AppliedI.net website. Here's one of the earliest versions. This was actually the second incarnation of www.appliedi.net: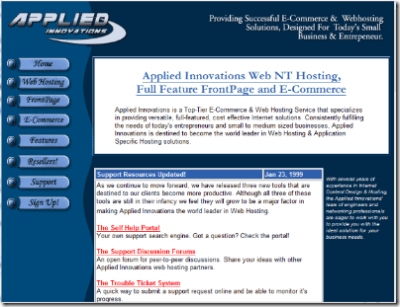 This was from late 1999, note the emphasis on NT Hosting! 🙂
Here's what our site looked like in 2001. Some of the javascript features don't display today but you get the general ideal.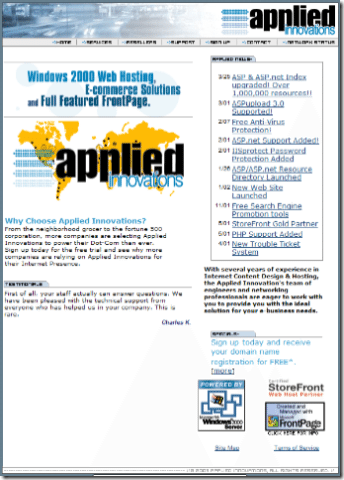 What I like most about these early designs was some of the information on there. The earliest news on the site seems to have been from July of 99.
Here's some of the early highlights
Rolling out advanced (for the day) mail services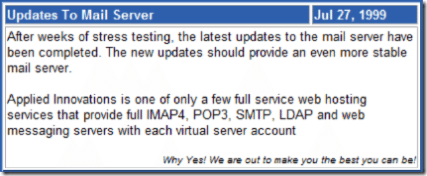 This was running a very early version of imail actually and at the time very few shared hosting provides provided IMAP, LDAP or webmail access to their mail servers. We were quite proud to bring this out.
Among the earliest to offer Windows 2000 hosting

It's funny, at the time Windows 2000 was scary for many companies and many enterprises didn't adopt it. In fact, there was a huge urban myth floating around about how Microsoft would own all your data if you were on Windows 2000.
Yes we were Mobile web ready!

Y2K Ready? Yes we were!

Sharepoint? How about Office 2000 Server Extensions. Yeap had 'em!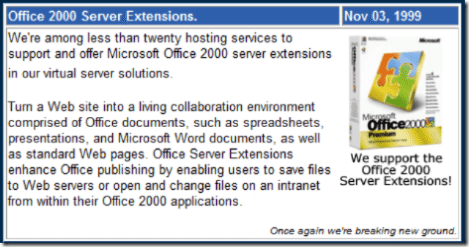 Developer Friendly? Yes, Even back then!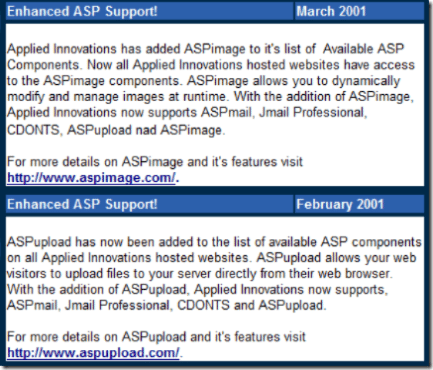 Eight years later our mission remains the same.
One of the most interesting things about our little digital excavation here is that since October of 1998, when Applied Innovations was but a clever idea and February of 1999 when it officially launched. The core values and mission of Applied Innovations has remained very much the same:

versatile, full-featured cost effective solutions for today's entrepreneur and small to medium sized business.